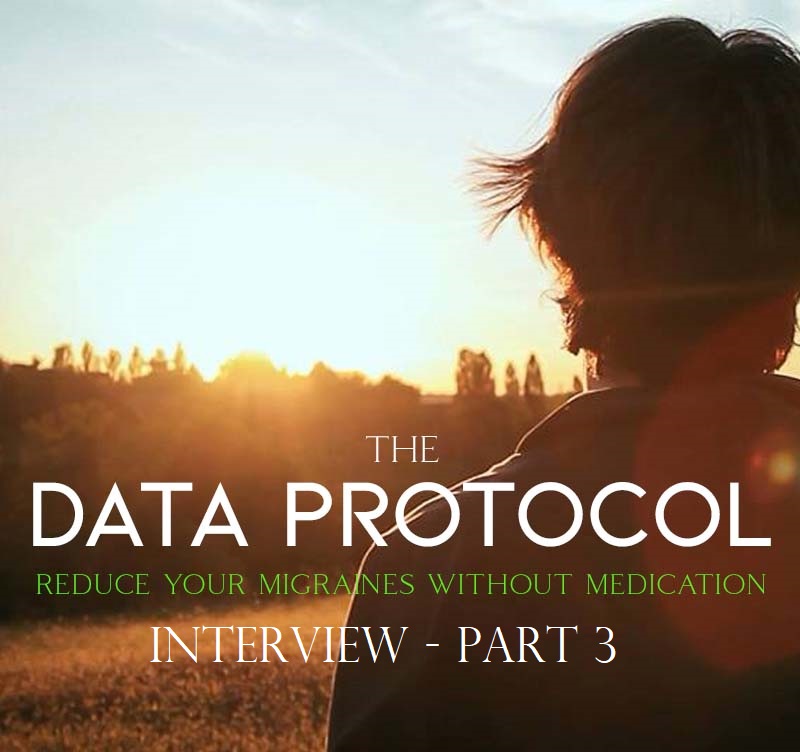 Our final discussion with Robert Kassab, author of the upcoming DATA protocol migraine-relief book.
This represents the last installment in our interview series with Robert Kassab, from Reimagine Healthy . The first installment is available here, and the second part can be found by clicking on this link. I would encourage everyone to read the posts in sequence, since they have been broken down accordingly.
Your own challenges clearly played a big role in setting up the basic ideas behind the DATA protocol. What can you tell us about the protocol more broadly? What is the main goal?
I had desperately been searching for something drastic in order to reduce my own migraines. The episodes were impacting my work and the dynamic at home wasn't great. Having essentially tried everything else without any success, I had become increasingly frustrated. This frustration led me to rethink the problem in terms of what I could do on my own. I was stuck, and all this time, I had been paying a lot of money to outsource the job of finding and addressing the cause. But, it turns out that this was pointless.
Don't get me wrong, most of us would like nothing more than to determine the cause and try and fix any underlying issue. Unfortunately, this can waste a lot of time. I would say that my "aha" moment came when I realized that the cause was secondary to the main goal. The primary objective, particularly since medication was not a viable option, centered on naturally reducing frequency. But, how does one do that? That is the million dollar question, isn't it?
Let's turn back to the conversation around diet for one brief moment. I think most migraine sufferers are familiar with dietary elimination protocols. And these general elimination diets focus on removing common food items and ingredients known to be problematic. Items such as red wine, cheese, and dairy in general are commonly found all over. So, the obvious choice would be to restrict the common items and hope for the best. As I touched upon, this rarely works, which brings me back to the main issues that have to be addressed.
The first one occurs because the elimination diets are not tailored to our own experience. Your body is very different from mine. What will impact you is not necessarily going to have an effect on me. We could say the same about migraine causes in general. Doctors tell us how difficult it is to try and isolate the instigators behind our migraines. And they generally point to the sheer number of possible variables that could be causing the episodes. Due to this large number, they ask us to not even bother. What's the point, right?
But there's another problem here. There tends to be a general absence of a rules-based system, that gives us a clear direction in terms of what to do and when. How often have you thought to yourself, "Just tell me what to do?" When you have a map in hand, and you also know how to read it, it becomes easier to get to the destination. One of the things we are always looking for when talking to doctors is for them to tell us exactly what to do to get better. When it comes to migraines, they really can't.
Finally, none of the elimination protocols ever consider the optimal starting point. If we don't begin from the best possible starting position, it has tremendous implications for everything else that follows. The DATA protocol addresses all of these concerns and provides migraine sufferers with a clear path to follow, in order to effectively reduce the migraines over time. We establish a process specific to each individual, and in the right order. This is the key.
You bring up an important point. We're talking about a serious time commitment, correct?
Yes. There's no reason to say otherwise. We're looking at six to twelve months of intense effort. For many migraine sufferers, this will seem daunting at first. Relief is something we need right this second. However, without laying the proper groundwork, it just isn't possible to achieve the results we want. In the beginning, our focus centers on carefully learning as much as we can about the episodes. This allows us to then shift the focus and put our own episodes in the right context. By the time that we enter what I refer to as the more restrictive portion, we're halfway down the road. This is when we would expect to see a clear change in terms of our migraine experience.
I would also like to make the following point. We should compare the time commitment against that of a typical migraine journey. When most of us finally understand that we suffer from migraines, we are still hopeful that we can find and address the cause. What I mean is that we believe that there is a solution out there, which will help us get better. So, we spend a significant amount of money and time visiting doctors and specialists who have their own theories as to why the migraines are occurring. I would refer to this period as the honey moon stage, which can last up to two years. After this, however, the situation gets more difficult. We start realizing that the medical community is becoming less and less helpful.
By now, we have tried various medications that, at best, have shown mixed results. I estimated spending at least six thousand dollars each year, without getting anywhere. And in some instances, I would end up spending that amount over a few months, again without any progress. Because we keep spinning our wheels, we lose track of time. We might continue bouncing around one more year or two, trying supplements or other alternatives before finally giving up.  But at some point, however, we bow our heads down, and reluctantly settle for anything that can help us numb the pain.
Years, if not decades, pass us by. We become depressed and disillusioned, feeling that there is little hope left. It doesn't have to be this way. While the time commitment of the DATA protocol might seem longer as compared with starting a new form of medication, it pales in comparison to the amount of time we tend to spend on getting nowhere, using traditional methods.
If someone wanted to do this on their own, could they? And can you also tell us a little more about next steps?
They absolutely could, using the steps outlined in the book. Years ago, one of my biggest frustrations came as a result of never having a clear roadmap in hand with time considerations and instruction in terms of what to do and when. That is no longer the case.
The book will be helpful for anyone with migraines, irrespective of how long they have been suffering, as well as family and loved ones. My hope is that it will be published late summer or early fall of 2020. It is in the final stages currently but is being pre-sold on our website. I promise that it will change the way you think about migraines and what real relief is supposed to look like. For those who pre-order a copy of the book, there will be some sort of bonus included.
I am also anticipating a course in the not-so-distant future, where migraine sufferers will be able to walk through each of the steps in much greater detail. Participants can then ask questions and also hear from others who may be in a similar situation. And going through the material in a group setting allows us to work on the current  material, while receiving feedback as we go. Having the ability to get a deep-dive into areas which can sometimes seem complicated is critical. From my own experience, I know how important it is for everyone to be on the same page.
For those who might be interested but want additional information, you can drop us a line on our website so that we can hear from you.